EORI application in Estonia
If you are looking for a consultant, who is fully experienced in export and import matters, you already found the professional corporate advisor – EESTI CONSUlTING.
We are a company with a headquarter in the heart of Tallinn, supervised by the Financial Intelligence Unit. The EORI registration process is our daily routine.
Are you VAT registered or not yet? If not please – use this link to order a VAT registration service.
The most frequent questions of our customers:
How to register an Estonian company to EORI?
1)Contact EESTI CONSULTING – our company checks your personal and corporate status – if you are obliged to EORI registration – we move things forward.
2)We file the application form on behalf of your company and forward to the tax authorities – EMTA
3)You're registered for EORI – Verify please your EORI number on European Comission Website
Where is the EORI application form?
Visit EMTA.ee website and download an application for EORI form
Who needs an EORI number?
A business operator established in the customs territory of the EU needs, for customs purposes, an EORI number.
Businesses operating outside of the European Union can create an EORI for getting access to certain customs benefits for handling their items.
What is EORI number example?
The format EORI number in Estonia is as follows:
1) Limited liability company (known as osaühing or OÜ) – EE + Registry number
2) Self-employment (EE + personal identification code)
3) Others (EE + MRR number)
How to validate an EORI number ?
Please visit the website and anter EORI number to verify its status.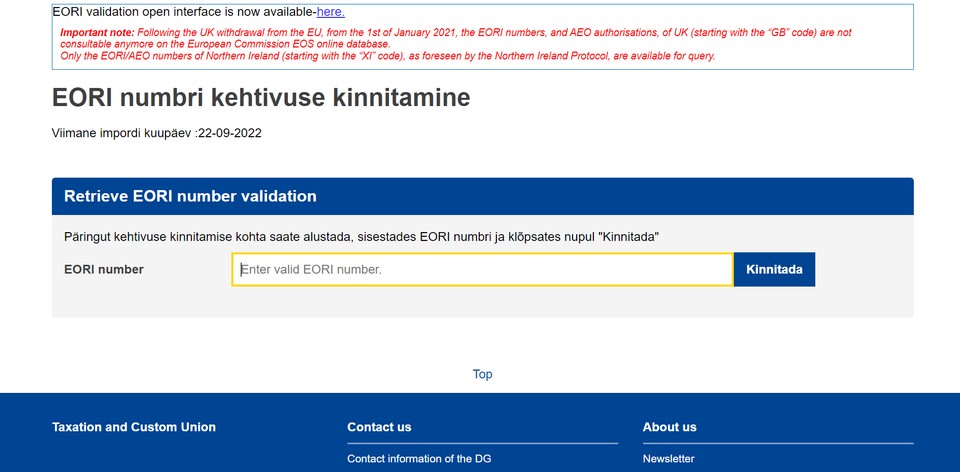 – Who can issue the EORI number?
The Estonian EORI number is issued by the Estonian Tax and Customs Board.
By law, an economic operator can only have one EORI number. This number must be used in all customs-related activities on the territory of the EU.
I have only the branch in Estonia – Can I apply for EORI?
A branch of a company must use the EORI number of the parent company, f.e if your parent company is registered in Germany and you already started with branch in Estonia – you shall register for EORI in Germany.
Are you a non-resident and your goal is to import or export to Estonia? Hire Eesti Consulting as your corporate professional advisor and ask for our opinion or legal advice.